Are you looking for the best free responsive blogger templates in 2023?
Blogging has become one of the favored, major trends these days, and Blogger is one of the oldest active blogging platforms that is still running on the web and homing millions of bloggers since the early 20s. Some remain with the Blogger platform due to its high security and quality standards as being a product of Google, you expect these things.
Furthermore, many business owners have long realized the potential of blogging. It can be a beautiful and more effective medium for generating traffic, leads, and sales and helps create a large community around the globe. Therefore, these businessmen and site owners use premium or free responsive blogger templates to create their blogging sites and pages and increase their online digital presence over the world.
However, finding great templates can sometimes be a hard nut to crack due to their availability and vast variety. There are tons of great blogger templates out there to choose from. Therefore, the process of selecting the right one can feel quite overwhelming. To help you in this, we have collected research and tried out the many templates to create a list of the best free responsive blogger templates for you. They are entirely free and highly responsive; so give it try and use them to build an amazingly responsive blogging site!
1. UltraMag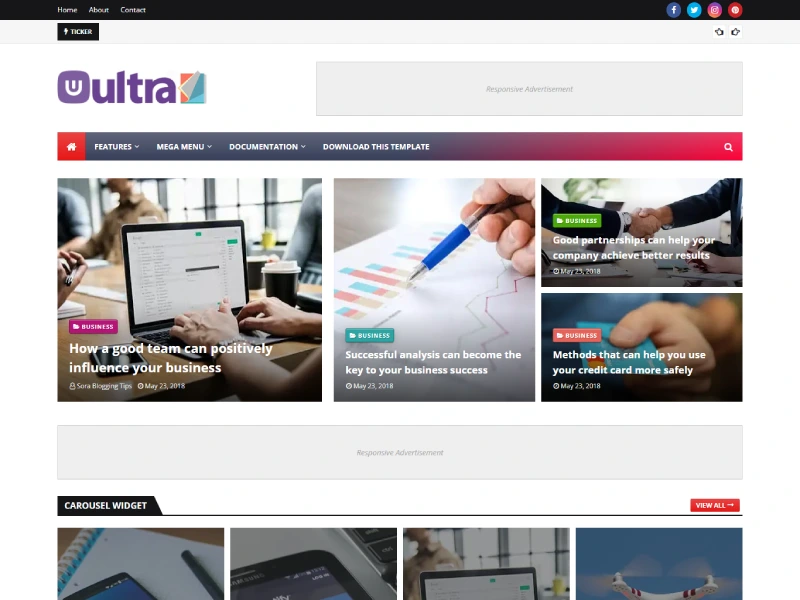 UltraMag Blogger Template is a fully responsive & professional magazine blogger templated loaded with advanced and unique features. Also, this splendid blogger template delivers a modern, appealing new generation blogger framework, containing a flexible coding structure that is highly advantageous in creating designs as per your need.
Furthermore, this free responsive blogger template uses SEO optimized design that uses the latest schema markups for home and post pages. Also, the UltraMag Blogger Template is optimized for faster page loading speed and has options for Shortcodes for extending site functionalities. With the UltraMag Blogger Template, you can create a professional blogging and magazine website without writing codes.
2. Foodicious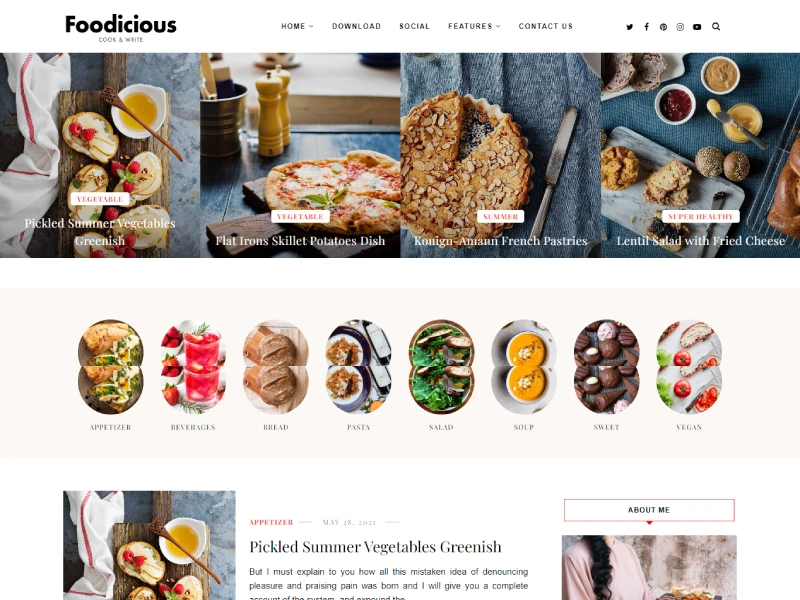 Foodicious is another free, highly-responsive blogger template for Food blogs, bakery-type businesses, and niches. Also, the Foodicious theme has a spectacular, modern design and various sections to display a variety of food dishes in a well-organized manner, and it will showcase professionally to your visitors.
Furthermore, this restaurant theme has pre-installed meta, SEO tag codes, and precise code, allowing you to build highly streamlined restaurant designs. Besides this, Foodicious has all the essential features, plugin support, Browser Compatibility, and codes to make your design top-notch. The Foodicious template is also compatible to work with Elementor & Gutenberg both.
3. Pikify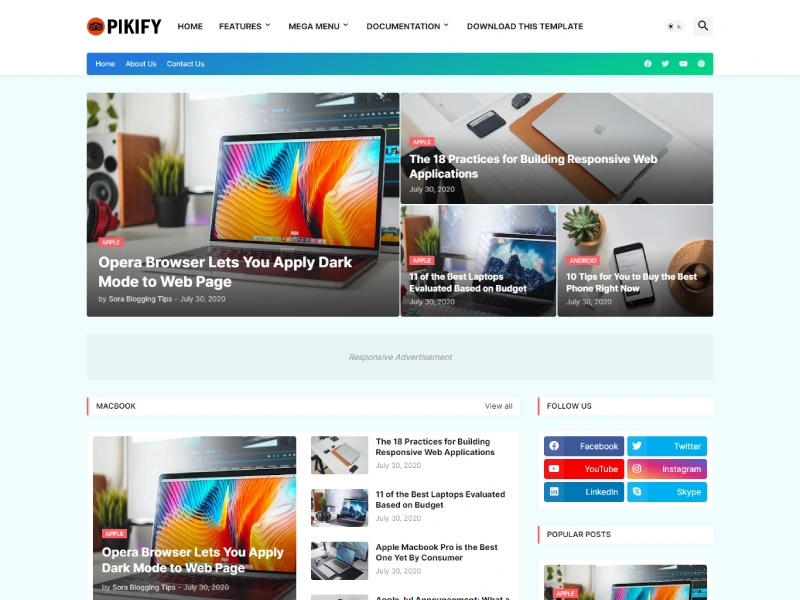 The Pikify is a clean, modern professional blogger template offering various functions and features, making it stand out. This splendid template contains many different customization options by which you can easily change the look and widgets without altering a single line of code.
Furthermore, Pikify has pre-installed SEO Meta Tags which make the site more friendly to search engines for better search engine visibility. Also, Pikify is excellent for those who prefer subtle colors, typography, and Adsense-friendly code to get the AdSense program without breaking the design and structure of the theme. So, if you require a package of features and functions-related templates, then Pikify is perfect for you.
4. Invite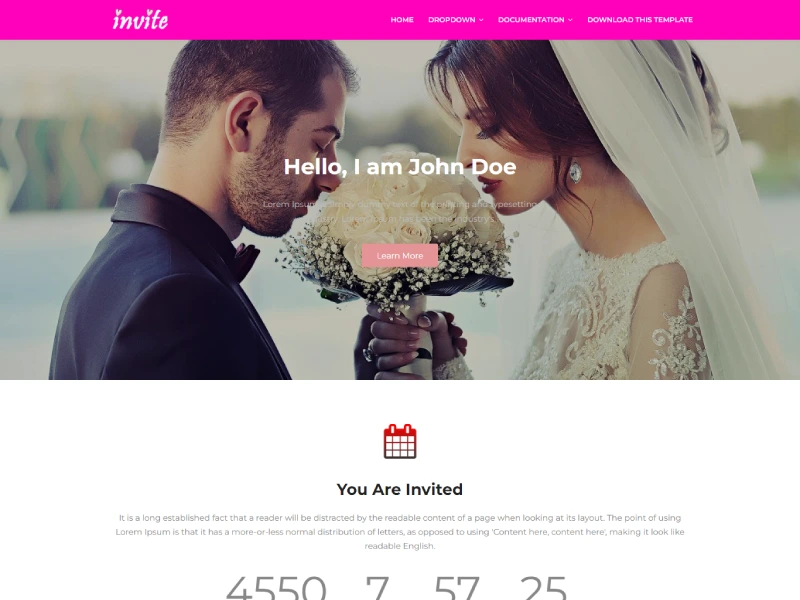 The next theme on the list is the Invite free blogger template. It is beautifully designed and developed mainly for marriage and pre-wedding invitation-based templates. This highly responsive helps you and your life partner create a memorable masterpiece to remember and lets you showcase your family, friends, and other followers.
Furthermore, the template layout is Loaded with various custom features, giving a pleasing and elegant appearance to the blogs. Besides wedding and marriage blogs, you can also use this template for niches. Like travel, adventure, OOTD, Lifestyle, Personal blog, and Diary Entry kind of blogs. Invite blogger template offers a captivating design animation and valuable features so try it now!
5. Lyricist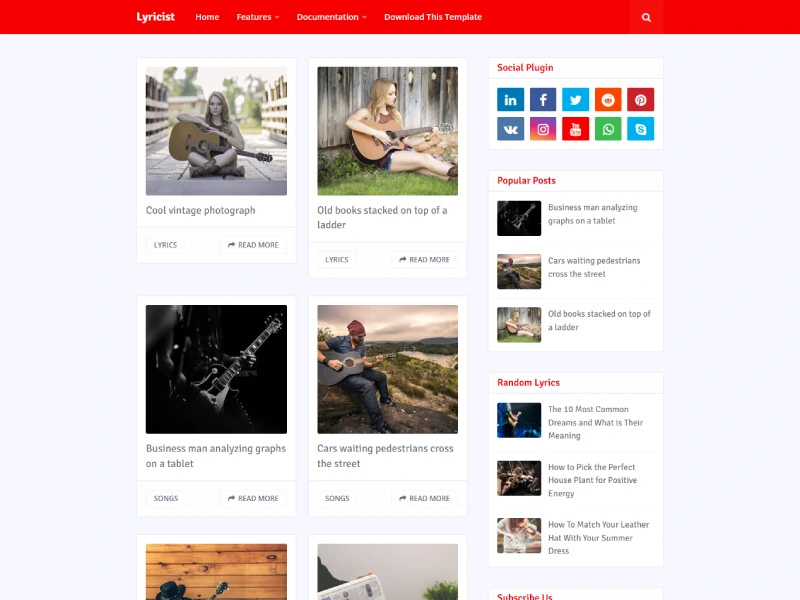 You can use the Lyricist Blogger Template for music and lyrics blogs. It is a fully responsive grid-style posts theme with clean codes. The Lyricist Blogger Template is highly responsive with a visually aesthetic; stunning layout that fits in all sizes of display devices.
Besides this, this clean blogger template has translation-ready features, drag and drop options, social bookmark ready, and a responsive/mobile-friendly design combination of black, white, and red. Also, no coding skills are needed, and this blogger template has a drop-down menu, post thumbnail, cross-browser compatibility, fast loading, and SEO-friendly layouts to enhance web search engine visibility.
6. SoraShop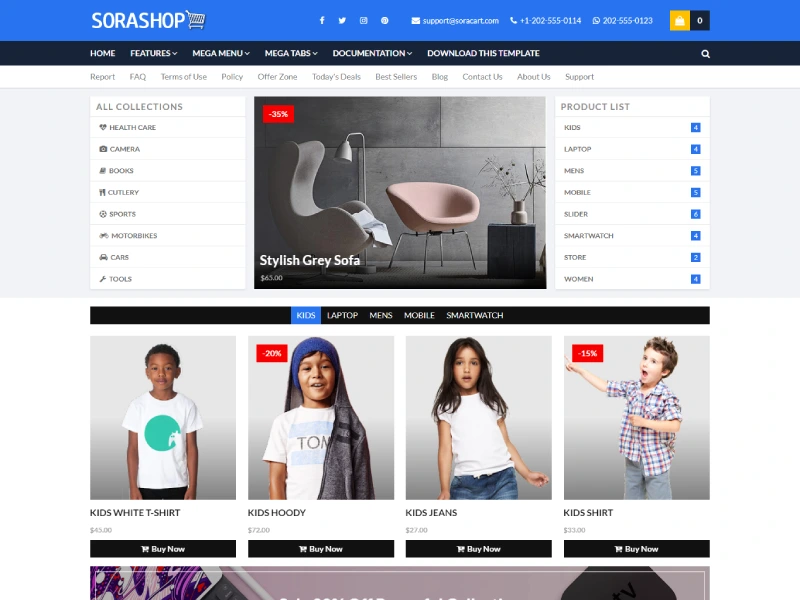 This magnificent premium-looking and advanced shopping theme offer many appealing features and plugin supports for customization & personalization and ensures the betterment of every aspect of your sports, electronics, equipment, etc., e-commerce site. Also, SoraShop Blogger Template is very user-friendly and has a variety of widget options, multiple browser compatibility, and improved codes for faster page load times, delivering your site a robust and modern feel.
In SoraShop Blogger Template, you will get more space for ads because of its well-organized, amazing structure. You will also get lots of customization options which helps in drawing more visitors to your products.
7. Beautly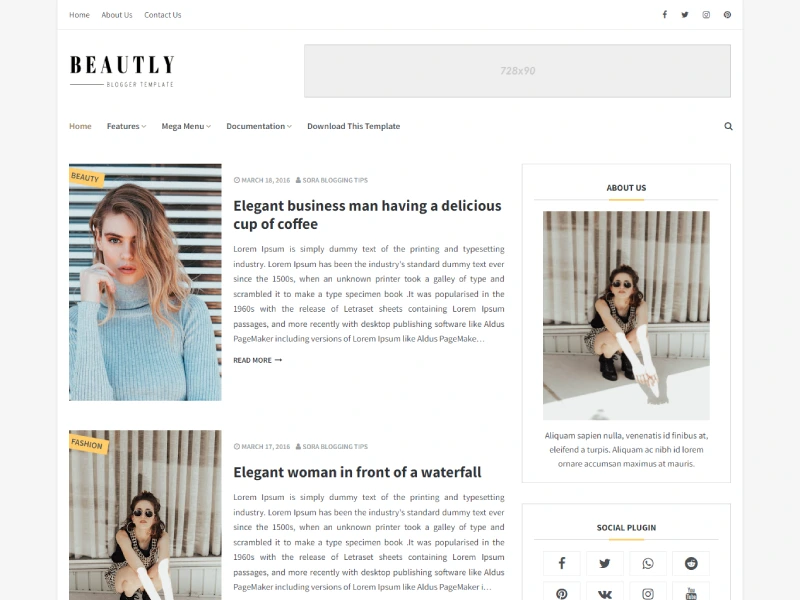 Beautly Blogger Template is another free responsive blogger template for professional beauty, fashion, personal, recipe, travel, etc. It is a modern, SEO-friendly theme that solely focuses on making your content look as attractive as possible. Also, Beautly Blogger Template has options for widgets to drive a more appealing approach.
Furthermore, Beautly Blogger Template delivers many outstanding features, including browser compatibility, and also has an incredible about section. Besides this, the Beautly Blogger Template has clean typography and secure codes and supports many plugin integrations.
8. FlashNews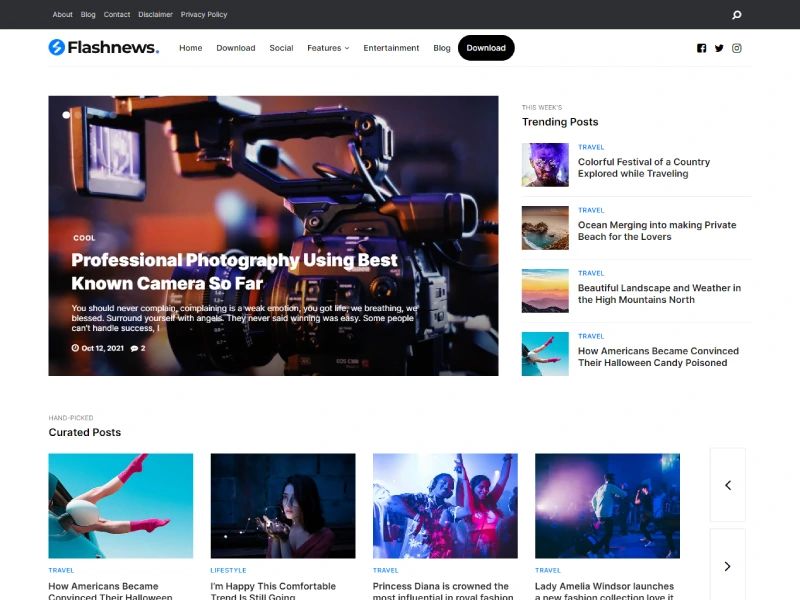 The next theme on the list is the FlashNews free blogger template. It is a gorgeously designed and developed blogger theme mainly for News, magazines, Sports, Publishing businesses, Fashion websites, etc. This highly responsive template helps you create mobile-friendly websites for promoting your content through social media icons, Adsense, etc.
Furthermore, this iconic blogger template layout is Packed with lots of different custom features. Such as providing a pleasing and elegant impression to your blogs. One of the best things about this template automatically modifies its space when you place Adsense ads on the layout. And giving your design a clean and minimalistic look as
possible.
9. Nubia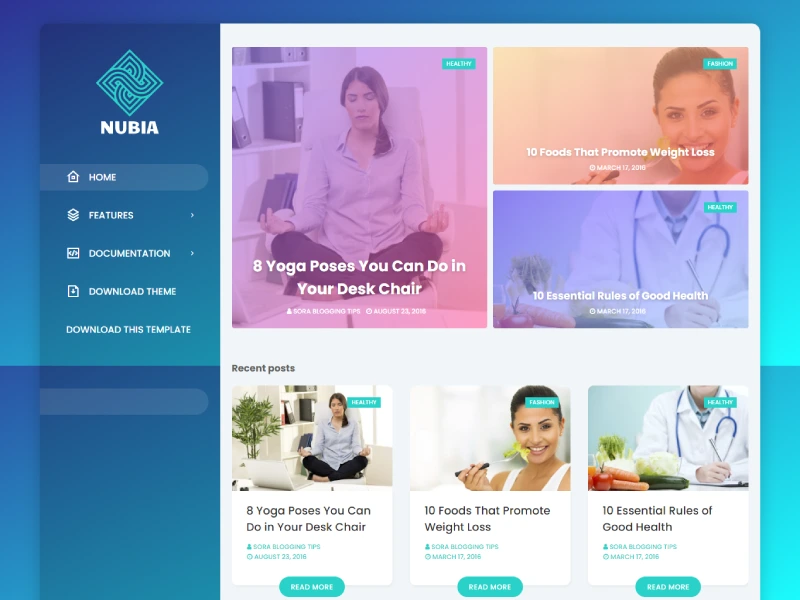 The Nubia is a super stylish, modern professional blogger template offering various functions; features and plugin integration, making it stand out. This wonderful blogging template has lots of distinct customization features by which you can adjust the looks of the theme and widgets without writing a single line of code.
Furthermore, every element of Nubia is designed with perfection and offers features like Drop Down Menu, Social Bookmark Ready, pre-installed SEO Meta Tags, which make the site more friendly to search engines, etc. Also, the Nubia is a three-column blogging template excellent for those who prefer Stylish; Subtle colors and Adsense-friendly codes. So, if you
require a pitch-perfect and well-balanced template, then Nubia is perfect for you.
10. Camera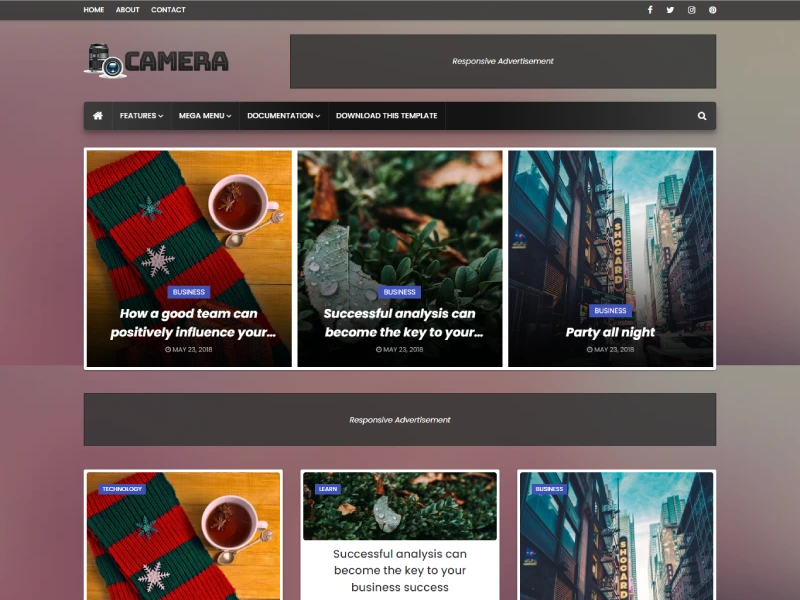 The last free responsive blogger templates on our list are the Camera Blogger Template. The Camera template is a beautiful, modern one of its kind blogging blogger theme for publishing photos, travel dairies, Instagram pictures, food, etc.
Furthermore, it is a custom-built theme with a social media option and beautiful faded background for a rich text appearance. Also, its SEO-friendly design includes a rich contrast color combination to reach a vast mobile audience more effectively. Also, the Camera Blogger Template is a feature-ready theme that has the option to add shortcodes, retina-ready, and translation-ready that supports the RTL layout. This way, you can bring an immersive experience to your visitors and blog readers with its alluring layout and high-resolution images.
Share this post: